Need a break from conference activity? Coming to town for a show and need to freshen up? You're in luck! Mayo Civic Center is just steps away from the finest hotels in Rochester, MN. Check out these hotels, all within walking distance of Mayo Civic Center. 
DoubleTree by Hilton. Nothing says DoubleTree like the warm cookie you receive at check-in. The DoubleTree by Hilton – Mayo Clinic Area is one of the closest hotels to the center offering stylish guest rooms, suites and executive-level accommodations. Located inside the hotel is one of Rochester's most popular restaurants, Pescara, featuring delicious steaks, fresh seafood and healthy salads.
DoubleTree by Hilton | AB-PHOTOGRAPHY.US

Rochester Marriott. Experience firsthand the recent transformation of the Rochester Marriott Mayo Clinic Area. The hotel features luxurious bedding, HDTV's, and upscale amenities including complimentary wireless Internet access. Looking for a glass (or two) of wine, the Rochester Marriott's wine bar Salute offers the perfect pour after a long day.

Hilton Garden Inn. Experience a great night's sleep in a welcoming guest room or choose a suite and relax in a separate living area featuring a pull-out sofa bed and two full bathrooms. If you wake up too late for your conference's breakfast, the Hilton Garden Inn has you covered with complimentary breakfast with hot made to order items.
Hilton Downtown Rochester. The 264-room Hilton Downtown Rochester is a 20-story upscale hotel that opened in April 2019 at the southeast corner of South Broadway and East Center Street. It features five-star dining at Pittsburgh Blue Steakhouse, a full-service luxury spa, outdoor terrace and underground parking, and retail shops. 
A new Hotel Indigo in the location of the former downtown Holiday Inn on South Broadway. The new hotel is features skyway access, a CRAVE Restaurant with retractable roof, and amenities and decor that convey its "nurtured by nature" theme.  Guest rooms feature hardwood floors with rugs, bathrooms with glass enclosed showers and barn door closures.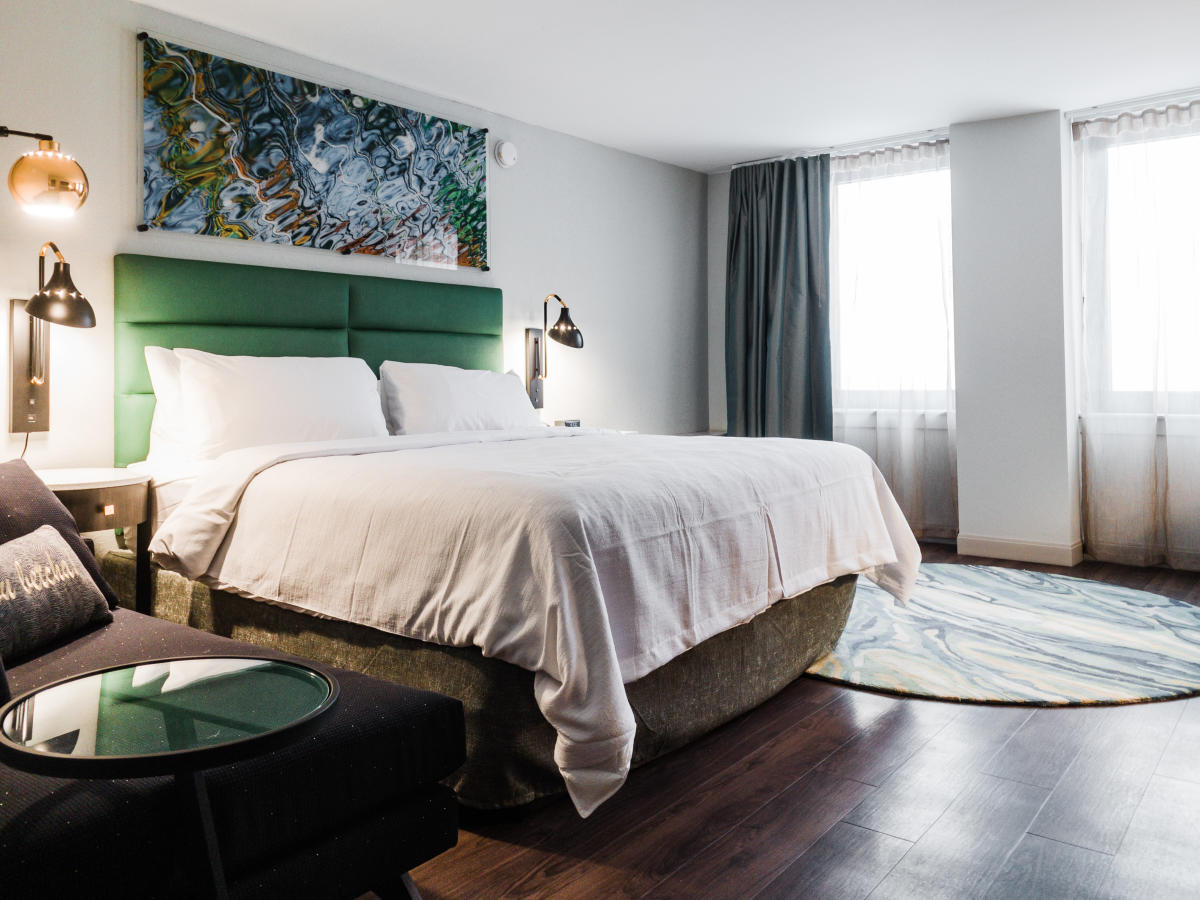 Hotel Indigo | AB-PHOTOGRAPHY.US
The Kahler Grand. A major renovation project on Rochester, MN's iconic Kahler Grand Hotel as well as the luxurious The Towers at the Kahler Grand. included the revitalization and transformation of the hotel's levels two through 11, which includes 605 guest rooms. The construction project provided sweeping changes to both hotels, bringing these historic structures back to life and providing a luxurious historic Minnesota experience to its guests.
The Hyatt House Rochester Mayo Clinic Area opened in 2021 and offers 172 rooms with fully furnished kitchenettes, including 101 suites. The pet-friendly hotel also has on-site self parking, an indoor pool, 24/7 fitness center and business center.
A new TownePlace Suites by Marriott Rochester Mayo Clinic Area opened in 2021 at 601 2nd Street SW in downtown Rochester. The new 110-suite hotel offers studio, one-bedroom, and two-bedroom suites with fully equipped kitchens, as well as separate living/working and sleeping areas.
Plan your visit to Rochester, and find out more about our accommodations both downtown and in other parts of the city.