Medical Meetings + Technology
What do you get when you combine the world's leading medical research facility, top-tier research university, and global technology company currently developing a new family of super-computers? A breeding ground for innovation. Inspire your attendees. Host your next medical meeting or technology conference at Mayo Civic Center in Rochester MN.
Through our community and corporate partnerships, Rochester offers organizations and their attendees unique connectivity to ongoing development and advances in medicine and technology.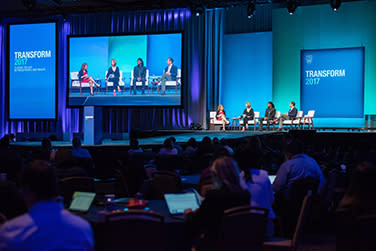 Below is just a sampling of the initiatives currently taking place in Rochester MN:
TECHNOLOGY CONFERENCES
With a total of 23 meeting rooms, a 40,000 square foot ballroom, an auditorium, an arena, and a dividable exhibit hall, there is no venue in the region that is better suited to host medical meetings and technology conferences of all sizes than Mayo Civic Center.
MEDICAL TRADE SHOWS
Beyond our proximity to cutting-edge leaders in medicine and technology, Mayo Civic Center also features the largest exhibition facility in southeastern Minnesota. This well-appointed 25,000 square foot space can be divided into four sections depending on your needs and is connected to our spacious North Lobby and Auditorium.

Availability + Booking
Contact our sales staff at 800 634 8277 or email info@minnesotasrochester.com to discuss plans for your next tech conference or medical meeting.