Valentine's Day is around the corner, which means it's time to make plans for a unique date night with your loved one. Why not surprise your sweetheart with tickets to see an upcoming show at Mayo Civic Center? From classical to classic rock music, as well as theatrical productions, there's something for every couple throughout the month of February. Here are five ideas for Valentine's Day date night or just a night out to cure your "Cabin Fever" at Mayo Civic Center.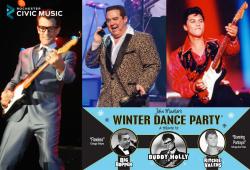 John Mueller's Winter Dance Party: The Music of Buddy Holly, Ritchie Valens and Big Bopper
February 5 at 7:30 p.m.
John Mueller's "Winter Dance Party" ® is the official live and authentic re-creation of Buddy Holly, Ritchie Valens and the Big Bopper's final tour and the only show endorsed by the Holly, Valens and Richardson estates.  Each live concert performance includes over two hours of unbridled, high voltage entertainment featuring all the hit songs of the 50's era: That'll Be The Day, Peggy Sue, Oh, Boy, Rave on, La Bamba, Chantilly Lace, and many, many more.
February 15 at 7:30 p.m.
Known across the globe as "the ultimate-feel good show," THE CHOIR OF MAN offers up 90 minutes of indisputable joy for all ages! It's a party. It's a concert. It's the best pub "lock-in" you've ever been to. Featuring pop, classic rock, folk, Broadway and pub tunes, THE CHOIR OF MAN has something for everyone. A multi-talented cast of nine multi-talented guys combines hair-raising harmonies, foot-stomping singalongs, world-class tap dance and poetic meditations on the power of community in this riotously enjoyable homage to that gathering place we've all missed so much over the last year: your local pub. With a real working bar on stage, come ready to drink in the action. The first round's on us. Cheers!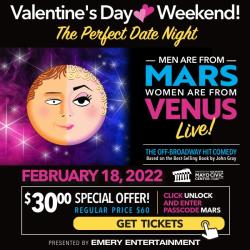 Men Are From Mars, Women Are From Venus Live!
February 18 at 8:00 p.m.
The Off-Broadway hit comedy Men Are From Mars – Women Are From Venus LIVE!, is a one-man fusion of theatre and stand-up, and is a light-hearted theatrical comedy based on the New York Times #1 best-selling book of the last decade by John Gray. Moving swiftly through a series of vignettes, the show covers everything from dating and marriage to the bedroom.  This hysterical show will have couples elbowing each other all evening as they see themselves on stage. Sexy and fast paced, this show is definitely for adults, but will leave audiences laughing and giggling like little kids!
February 25 at 7:30 p.m.
Formed in 1967, signed in 1971, and fronted by iconic vocalist Kevin Cronin since 1972, REO Speedwagon's unrelenting drive, as well as non-stop touring and recording jump-started the burgeoning rock movement in the Midwest. Today, REO Speedwagon has sold more than 40 million albums around the globe, and Cronin and bandmates Bruce Hall (bass), Neal Doughty (keyboards), Dave Amato (guitar), and Bryan Hitt (drums) are still electrifying audiences worldwide in concert with hits and fan-favorites such as "In Your Letter," "Can't Fight This Feeling," "Time For Me To Fly," "Roll With The Changes," the aforementioned "Keep On Loving You" and  "Take It On the Run," and many, many more.
Rochester Symphony presents Tchaikovsky: Beauty Out of Anguish
February 26 at 7:30 p.m.
Pianist and psychiatrist Dr. Richard Kogan reveals elements of Tchaikovsky's anguished soul as he created some of the most beautiful music of all time. Dr. Kogan weaves notable excerpts of Tchaikovsky's work with stories and background relating to the composer's health, followed by a complete performance of the breathtaking Piano Concerto No. 1.
Tickets to upcoming shows also make great Valentine's Day gifts! Check out Mayo Civic Center's full calendar of events, including The Righteous Brothers, Styx, and more great events in 2022 here.