2022 is here, and it's a great time to look forward to all the new year has to offer. At Mayo Civic Center, there is already a variety of concerts and programs for all audiences lined up in 2022. With something for everyone, including families, couples, and friends, check out these upcoming shows and get your tickets today: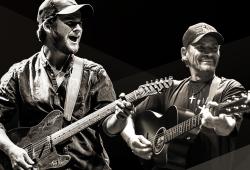 Ben and Noel Haggard in Concert - January 29 at 7:30 p.m.
For fans of his late, legendary father, country music great Merle Haggard, his youngest son Ben is no Stranger – in fact, he's been the lead guitarist in Hag's longtime band of the same name for the past eight years, since he was 15 years old. Noel Haggard has enough life experiences to more than completely inhabit the things he sings about...and does it with the same natural phrasing and richly sonorous baritone that one would expect from someone with such a loaded last name.
John Mueller's Winter Dance Party: The Music of Buddy Holly, Ritchie Valens, and Big Bopper - February 5 at 7:30 p.m.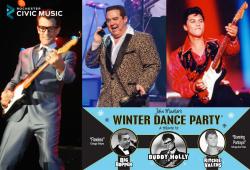 John Mueller's "Winter Dance Party" ® is the official live and authentic re-creation of Buddy Holly, Ritchie Valens and the Big Bopper's final tour and the only show endorsed by the Holly, Valens and Richardson estates.  Each live concert performance includes over two hours of unbridled, high voltage entertainment featuring all the hit songs of the 50's era: That'll Be The Day, Peggy Sue, Oh, Boy, Rave on, La Bamba, Chantilly Lace, and many, many more.

The Choir Of Man - February 15 at 7:30 p.m.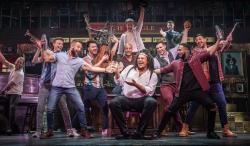 Known across the globe as "the ultimate-feel good show," THE CHOIR OF MAN offers indisputable joy for all ages! It's a party. It's a concert. It's the best pub "lock-in" you've ever been to. Featuring pop, classic rock, folk, Broadway and pub tunes, THE CHOIR OF MAN has something for everyone. A multi-talented cast of nine handsome guys combines hair-raising harmonies, foot-stomping singalongs, world-class tap dance and poetic meditations on the power of community in this riotously enjoyable homage to that gathering place we've all missed so much over the last year: your local pub. With a real working bar on stage, come ready to drink in the action.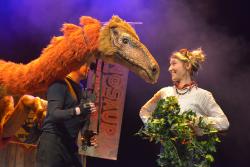 Dinosaur World Live! – February 16 at 6:00 p.m.
Dare to experience the dangers and delights of Dinosaur World Live in this roarsome interactive show for all the family. Grab your compass and join an intrepid explorer across uncharted territories to discover a pre-historic world of astonishing (and remarkably life-like) dinosaurs. Meet a host of impressive creatures, including every child's favorite flesh-eating giant, the Tyrannosaurus Rex, a Triceratops, Giraffatitan, Microraptor and Segnosaurus!
Men Are From Mars, Women Are From Venus Live! - February 18 at 8:00 p.m.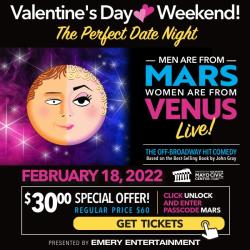 The Off-Broadway hit comedy Men Are From Mars – Women Are From Venus LIVE!, is a one-man fusion of theatre and stand-up, and is a light-hearted theatrical comedy based on the New York Times #1 best-selling book of the last decade by John Gray. Moving swiftly through a series of vignettes, the show covers everything from dating and marriage to the bedroom.  This hysterical show will have couples elbowing each other all evening as they see themselves on stage. Sexy and fast paced, this show is definitely for adults, but will leave audiences laughing and giggling like little kids!
REO Speedwagon - February 25 at 7:30 p.m.
Formed in 1967, signed in 1971, and fronted by iconic vocalist Kevin Cronin since 1972, REO Speedwagon's unrelenting drive, as well as non-stop touring and recording jump-started the burgeoning rock movement in the Midwest. Today, REO Speedwagon has sold more than 40 million albums around the globe, and Cronin and bandmates Bruce Hall (bass), Neal Doughty (keyboards), Dave Amato (guitar), and Bryan Hitt (drums) are still electrifying audiences worldwide in concert with hits and fan-favorites such as "In Your Letter," "Can't Fight This Feeling," "Time For Me To Fly," "Roll With The Changes," the aforementioned "Keep On Loving You" and  "Take It On the Run," and many, many more.
Daniel Tiger's Neighborhood Live! - February 27 at 2:00 and 5:30 p.m.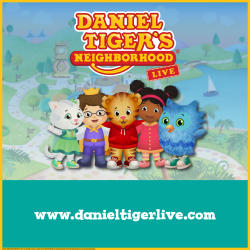 In this whimsical, family-friendly theatrical event, Daniel Tiger and his family and friends take audiences on an interactive and exciting adventure to the Neighborhood of Make-Believe, sharing stories of friendship, helping others, and celebrating new experiences. The live show features new songs as well as fan-favorites from the series, including the beloved "Won't You Be My Neighbor?" The live theatrical production is filled with music, dancing, and wonderful surprises that will warm the hearts of preschoolers, parents, and grandparents alike.
Global Music Series: Farah Siraj w/ Honors Choirs of SE MN - March 19 at 7:30 p.m.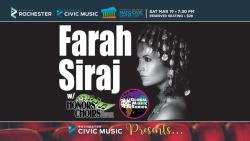 Referred to as "the Norah Jones of the Middle East", Farah Siraj fuses her influences of middle eastern music, flamenco, jazz, bossa and pop in her music. Farah currently leads an ethnically diverse quintet of Arabian Flamenco Jazz, with world-class musicians from the Middle East, Europe, the United States and South America. Farah will perform three selections with local youth choral ensemble the Honors Choirs of Southeast Minnesota, under the direction of Rick Kvam.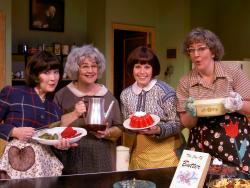 Church Basement Ladies - March 26 at 2:00 and 7:00 p.m.
Church Basement Ladies, a celebration of the church basement kitchen and the women who work there, features four distinct characters and their relationships as they organize the food and the problems of a rural Minnesota church. From the elderly matriarch of the kitchen to the young bride-to-be learning the proper order of things, the book and music give us a touching, funny look at their lives as we see them handle a record-breaking Christmas dinner, the funeral of a dear friend, a Hawaiian Easter Fundraiser, and a steaming hot July wedding.
Trolls Live! – April 12 & 13 at 6:00 p.m.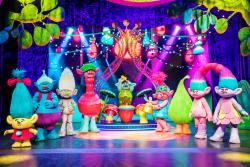 Get ready for another hair-raising adventure when Poppy, Branch and all their Trolls friends come to life on stage in Trolls LIVE! Jam-packed with epic music, glitter, humor and happiness, Trolls LIVE! will visit Mayo Civic Center on April 12 and 13, 2022 for two Trolls-tastic performances.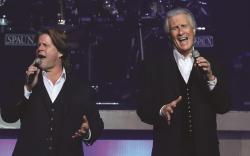 The Righteous Brothers – April 29 at 7:30 p.m.
Rock and Roll Hall of Fame duo The Righteous Brothers topped the charts in four decades. Now, Bill Medley joins forces with one of the most versatile vocalists in America, Bucky Heard, to bring The Righteous Brothers back to the stage. The Righteous Brothers concert experience features a string of their biggest #1 hits, including (the most played song in radio history) "You've Lost That Lovin' Feelin'," "Soul & Inspiration," "Unchained Melody," "Rock and Roll Heaven," Medley's Grammy-winning Dirty Dancing theme "The Time of My Life," and much, much more!
Styx – May 6 at 7:00 p.m. 
Outdoors at Mayo Park!
Styx, the multimegamillion-selling rock band that has forged an indelible legacy both on record and onstage, will headline an outdoor concert at Mayo Park on Friday, May 6, 2022 at 7:00 p.m. A new era of hope, survival, and prosperity comes calling with the release of CRASH OF THE CROWN, STYX's new studio album, which was written pre-pandemic and recorded during the trying times of the pandemic.
Find the full schedule of Mayo Civic Center's live entertainment, including a growing spring lineup, here.